Cable duct rubber - an effective way of isolation and reliable protection of communications.
Communications in places of construction work or public events, in industrial facilities where underground or aerial cable laying is not possible, must be isolated and reliably protected with special cable channels. We manufacture these universal designs so that you can ensure safety in places where there is a high risk of personal injury or equipment damage.
What are cable channels?
The device of all cable channel options is simple and structurally the same.
1. The main part of the bridge is a cable duct, also called a cable channel, a casing, a protector, a ladder, a cable bridge or a protective threshold.

The internal cavity of the cable ladder is usually divided into insulated collectors, where electric lines, fire hoses, irrigation hoses, any other wires and cables can be laid.

It is convenient to use five-, three- and two-channel cable hoods, which have a smooth, sloping bevel on the edge of the case.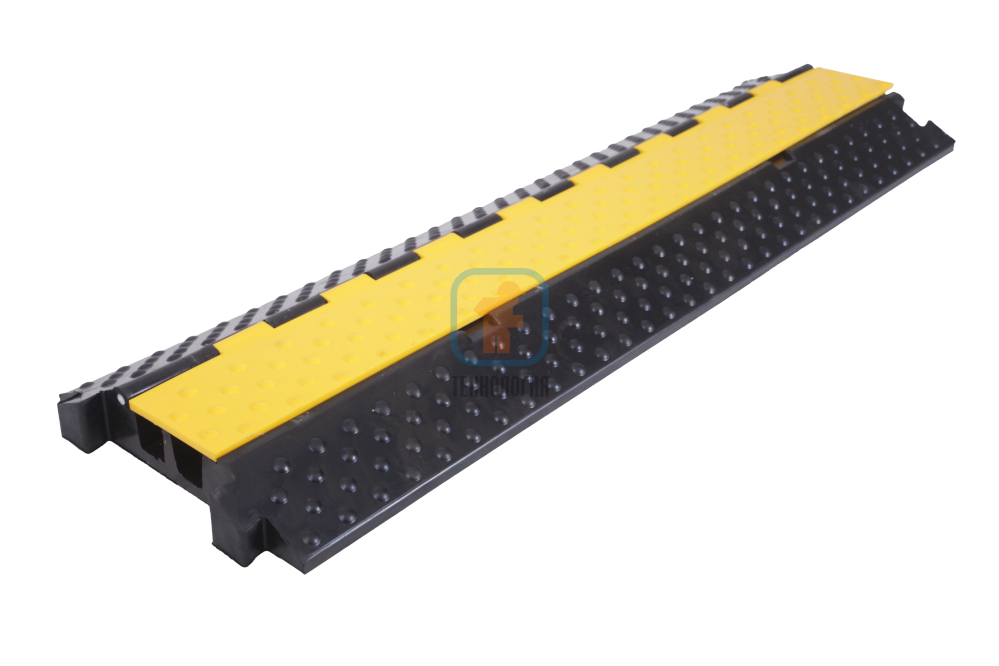 2. Protective cover - an element made of elastic plastic or of heavy-duty rubber, flat or corresponding in shape to the main casing. It is able to withstand mechanical (up to 40 tons) or temperature (-50С to + 60С) loads, as well as the influence of natural factors.

The safety cover is tightly fixed, creating the required tightness of the road cable channels and the isolation of the contents.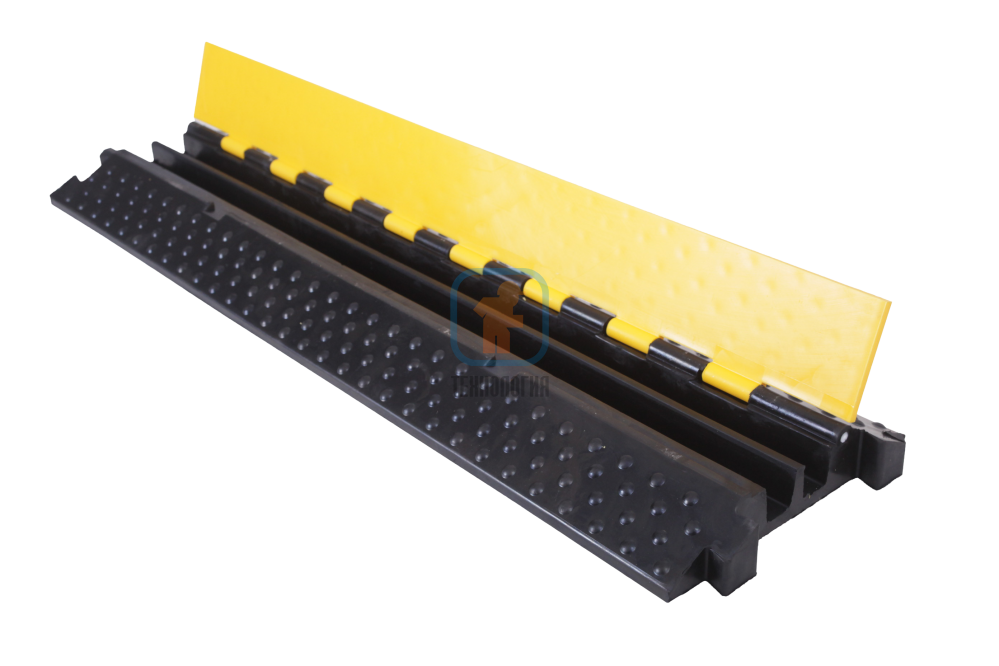 Cover color of rubber floor cable channels KKR-2-12, KKR-3-20, KKR-5-20 will be made in any color, at the request of the customer.
To simplify the use and installation of cable channels, as well as to form an optimal laying route, the casings are available in the form of sections of different lengths, interconnected by locks such as "groove" or "bone" on the case.
How to choose a cable channel?
For most situations and purposes, you can easily find the suitable model of the floor cable channel in the price list. Always up-to-date prices!
The main parameters of the product range of the Technology plant:
Marking: МШ (bridge for hoses), ККР (cable duct rubber), ДСР (wall rubber damper), ККП (cable duct polyurethane)
Appointment: industrial cable ladders, household, office and street
Number of collectors: one-, two-, three-, four- and five-channel
Case material: polyurethane and rubber
Additional options for special installation conditions, for example, a cable channel marked "U" helps to deploy the installation in the right direction
Cases - reliable protection of cables from mechanical damage.
For the implementation of each task, a model will be selected that meets the aesthetic and ergonomic needs and features of use.
In addition, the mouthguards for cables are sorted according to the application.
Gangway - for rooms or open areas where the operation of wires is stationary or requires mobility.
Bridge - cable protection in crowded places.
Casing - for technical rooms with high voltage wiring.
The option "speed bump" - a street cable channel in the areas of passage of vehicles and vehicles.
Where are floor cable ducts used?
Rubber cable channels are used in the industrial sector and in the field of organizing cultural events. Floor cable channels provide additional security in places with high humidity (greenhouses, farms), as well as in areas with short-term technical and construction works. Often cable channels lay communications for office premises, shops and areas of local repair operations.
Contact the PC "Technology"! The plant's specialists will help you choose and buy a floor cable channel for any tasks.