Installation
Hardware recommendations
In 99% of cases, the fastening of IDN is made in an asphalt concrete pavement, the confident attachment to which is a very problematic task. This is due to the softness of the material, especially in the summer. In the catalogs of manufacturers of fasteners there are no special models for asphalt, so our company, together with a number of leading manufacturers of fasteners such as Fischer, Sormat, as well as with numerous installation organizations in different regions, for several years tried various types of fasteners IDN. Today, there are two fundamentally different types of fastening: mechanical and chemical.
Chemical type:
A 2-component composition is introduced into the hole drilled in the asphalt, with a hardening time of 10 min to 1 hour. IDN holder is any metal pin, bolt or screw inserted into the hole with the adhesive.
Advantages: Reliable enough fastening with 100% filling of all cavities in the drilled hole.
Disadvantages: Installation requiring good qualification of installers (a rarity for many structures such as GOSSMEP ..). Long hardening time. High price.
Mechanical type:
1. Wedge anchor.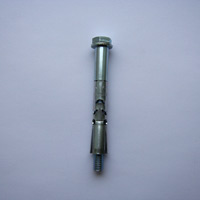 The most common type of mount. There are many manufacturers. When completing our own products, we have been using Fischer and Sormat for 6 years. In accordance with GOST asphalt pavement, the wedge anchors of these manufacturers are good. The cost of analogues from China and Taiwan is lower by 30-40%, but we can not say anything about their quality and reliability. Recommended size: diameter 10-12mm, length 90-120mm, head type - bolt-on.
Advantages: Simplicity and speed of installation.
Disadvantages: In loose asphalt insufficient degree of wedging, because their main purpose is concrete.
2. Screw and dowel.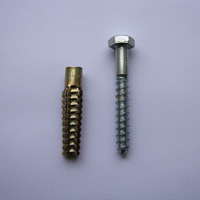 Also a commonly used type of mount. The expansion bolt shield can be used both metal (for aerated concrete), and polyethylene. With high-quality asphalt, you can safely use them, significantly saving on the cost of fasteners.
Advantages: Simplicity and speed of installation, price, the possibility of subsequent tightening.
Disadvantages: Insufficient degree of wedging.
You can order the installation service by our team. The offer is valid for Moscow and the Moscow region, St. Petersburg and the Leningrad region. Advantages of installing IDN by our team:
Free calculation of the cost of installation individually for your facility on the day of treatment
The possibility of a comprehensive arrangement of the IDN installation zone, namely: Installation of information signs, as well as the application of signal marking in the IDN installation zone in accordance with GOST R 52289
Installation is carried out by an experienced team